Clarke Energy, working alongside sister company Kohler SDMO, has assembled the first diesel generating set at their new assembly plant in Lagos. The plant has been opened in order to improve the costs and availability of the Kohler-SDMO diesel generating sets in Nigeria, whilst creating jobs in the country and expanding Clarke Energy's existing local capabilities.
Due to import tax imposed by the government, it was identified that it was essential to set up a local facility to deliver competitiveness and profitability whilst maintaining the highest standards of manufacturing using technicians trained in the UK and France. The first diesel generators off the production line were Kohler-SDMO J44 and J33 soundproof version which have been sold to a historical / Kohler-SDMO distributors in Nigeria.
Yiannis Tsantilas, Clarke Energy's new Managing Director for Nigeria, and David Raison, Africa Regional Director for Kohler-SDMO commended the Clarke Energy and Kohler-SDMO teams for combining superbly to deliver the first of many diesel generating sets from the production line. Special thanks were given to Wale Onagbola and his production workers, as well as Marc Etevenon, Jean-Etienne Patinec and the rest of the Kohler-SDMO team for their dedication and hard work in making this project a success.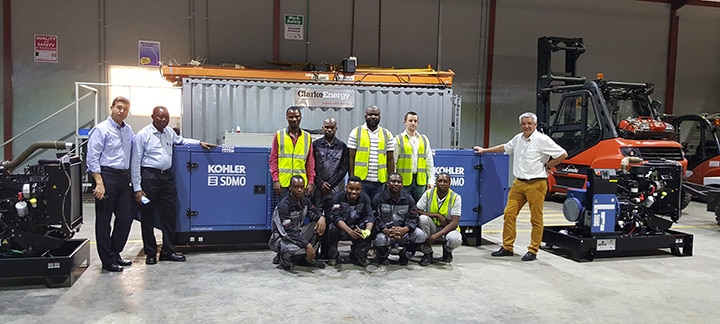 The assembly plant is the first of its type by Clarke Energy in any of the 25 countries in which the company operates in. Clarke Energy has been working in Africa since 1998 when the company was granted the rights to distribute the Jenbacher gas engine product in Nigeria. This new facility demonstrates their continued commitment to international trade in the African continent where Clarke Energy has delivered over 360MW for a wide range of applications with an emphasis on local service and aftersales support.
This is another successful collaboration with Kohler Power and Clarke Energy teams following Clarke Energy being awarded the official distributorship of Kohler power solutions in Australia, Tanzania, Tunisia and combining of team resources in India. Both companies have been working together in unison to share Kohler Power's production expertise, along with Clarke Energy's market leading in country distribution and service support model backed up by application engineering, installation and commissioning teams.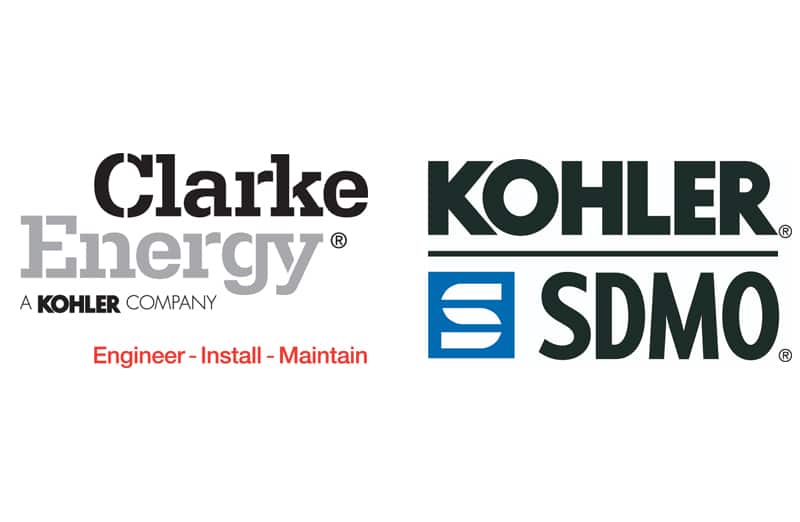 About Clarke Energy
Clarke Energy, a Kohler Company, has operated in Nigeria since 1998. Liverpool is a leader in the engineering design, installation and long term maintenance of gas and diesel engine-based power plants. The company provides added value through engineering, installation and maintenance of facilities. Clarke Energy employs over 1100 staff globally, of which 100 are located in Nigeria and has over 6,400MW of generation equipment operating in its operational areas with 350MW in the country.
Nigeria has been the site of a number of innovative firsts for Clarke Energy, these include:
Clarke Energy's first hybrid power plant located at OK Plast in Nigeria a demonstration site for the future development of microgrid capabilities.
Founded in 1966, SDMO Industries is today the 3rd biggest player worldwide in the generating set market. Established in Brest, France, where it is still based, SDMO has three plants extending over more than 31,000 m² excluding logistics.
SDMO designs, manufactures and installs generating sets from 1 to 3300 kVA for its standard range of products, thanks to its high-performance production plant and Research & Development unit. In addition, SDMO puts its engineering expertise into practise by designing tailor-made power plants and offers additional services with high added value: training, after-sales service, spare parts.
This technological expertise combined with high-tech manufacturing procedures give SDMO the necessary skills to master the design phase of all products, including those intended for sensitive industries.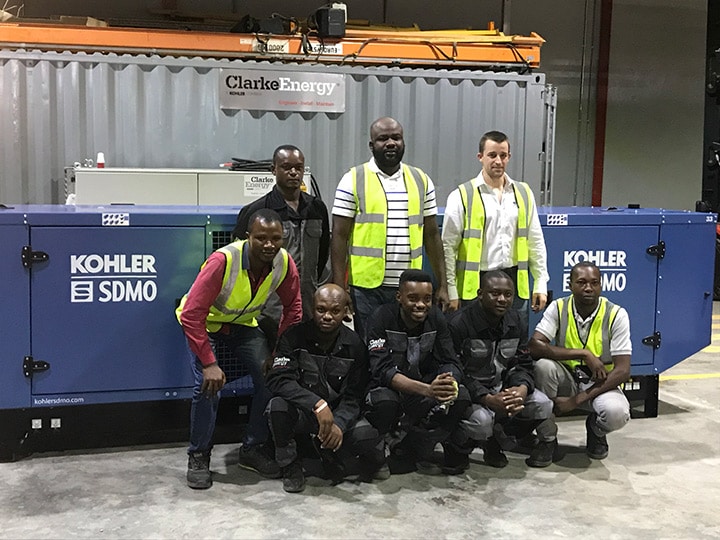 Pioneering compressed natural gas as an alternative to diesel fuel with Nestle[2]
[1] OK Plast Hybrid Power Plant https://www.clarke-energy.com/2018/ok-plast-hybrid-power-plant-solution/
[2] Nestle Pioneers CNG https://www.clarke-energy.com/2013/nestle-pioneers-the-use-of-compressed-natural-gas-cng/